About CocoMats.com
Cocomats.com Car Floor Mats was founded in 1996 out of a garage in Agoura Hills, California. The idea began when a DHL package from India was sent to California by mistake. The package was intended to be delivered to a United Kingdom home floor distributor but ended up on the doorstep of Jeff Allwine, who was expecting a sample shirt to arrive. Inside the box was a small sample of woven coconut fibers. A divine mix-up that planted the Cocomats.com seed.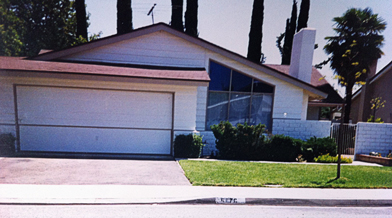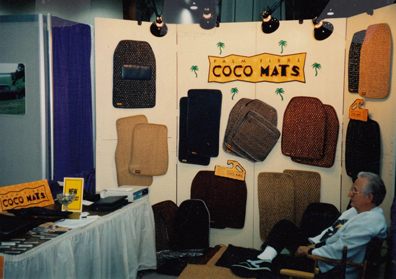 Cocomats were very popular in the 1950s, '60s, and '70s as a factory accessory option by Porsche, Mercedes Benz, BMW, and many other European automobile manufacturers. They were, and still are, one of the best-woven car mat options available to help any car look great. They are also the only car mat option on the market that can hide the dirt on the floor of your car, just like when they were first developed. By the mid-'90s, cocomats were no longer available. So when the co-founder, Jeff Allwine, received the package of coco fibers by mistake, it sparked a recollection of his early 911 Porsche's and the great look and feel of cocomats. Having determined that there was a market for a new and improved line of cocomat car mats and finding no one manufacturing them at the time, CocoMats.com was started. A few old sets of original Porsche coco mats were bought from Gary Emory at Parts Obsolete in Oregon to get the weave and colors to match the original cocomats. Contacts were made with a factory in India to purchase the new and improved coco matting material, which factory we still use to this day after 22 years of working together.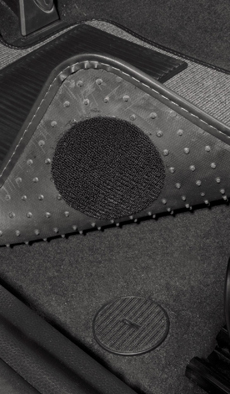 One of the first things we did after starting CocoMats.com in 1996 was to design and add a nibbed rubber bottom to the underside of every set of car mats we manufactured. The original cocomats were developed to go on the floor of the early european automobiles when they still had rubber on the floor and before carpeting was the norm. With most vehicles now having carpet on the floor, adding our nibbed rubber bottom gives all of the benefits of the original cocomats, with the added advantage that the mats won't move or bunch up. They are 100% waterproof and will still hide and hold dirt until they are vacuumed, shaken out, or hit against a tree. In addition to our rubber bottom that holds our mats in place, if any car is equipped with mat attachments, we offer either factory grommets or factory-styled grommets, depending on the material chosen and its thickness. We have over 10 different styles of grommets, snaps, posts, and velcro options for the various different car systems.

The business moved from California in 1998, relocating to Easton, Connecticut. Then in 2006, having outgrown our four-car garage, we relocated the business in 4 tractor-trailer trucks to our current factory location in Fort Mill, SC. We choose Fort Mill, SC, for the great skilled labor and a positive and healthy work environment. We have built a great team of skilled craftsmen. Every mat we manufacture is handmade to order, using the finest materials and labor available.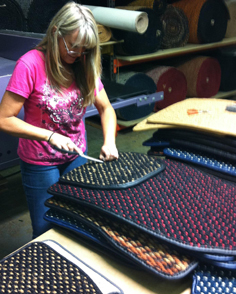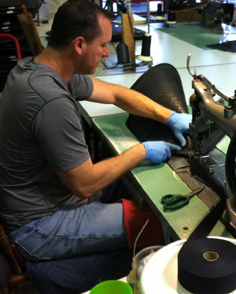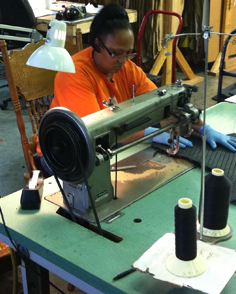 When cocomats.com began in 1996, we only manufactured six different cocomat colors! We currently carry nine products with 50 color options. One of the biggest hurdles we faced at the beginning of Cocomats.com was that we failed to realize that there are thousands of patterns for the thousands of car models built over the years. We did not have one car floor mat pattern. We were so thrilled to have found and revived such an exciting and great product that we overlooked this considerable detail. After a few tough years and help from the car community family, we persevered and now have all vehicle mat patterns, including every Porsche, Mercedes Benz, BMW, and other European car manufacturers, from the 50s up to the current models, including left hand and right-hand drive. We also offer our customers the choice to send us a new or modified pattern which we will custom make to their design, for no extra charge, as all of our auto mats are still handmade to order in our shop in Fort Mill, SC - USA.
Drew and Jay Leno at Jay's Garage
filming a video about CocoMats.com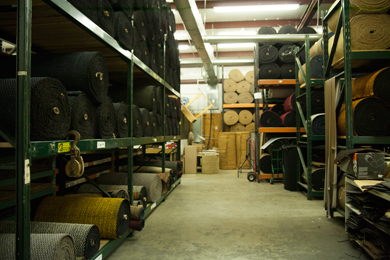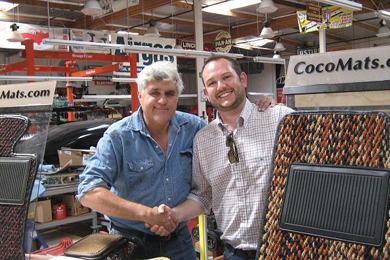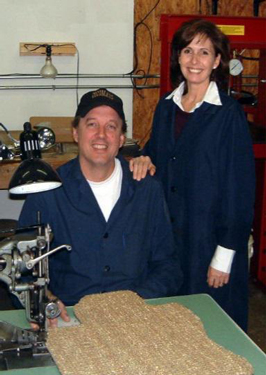 Jeff and Deb Allwine
(Co-Founders)
For further information about our car mats, many "About Us" articles and videos have been done on our Company over the years, including a feature article in the Mercedes-Benz Club magazine and a Porche Club of America product spotlight video. Our friend and customer, Jay Leno, did a video about our mats with Drew that he put on Jay Leno's garage. After the move to SC, Drew Phythian came on board and helped CocoMats.com grow with his sales and customer service expertise. Mercedes Source also did an informative video on their popular YouTube channel on our car mats. Many more articles in magazines, online videos, blogs, and forums are available online.

Thank you for taking the time to visit our website and read about CocoMats.com. We have included our mission statement below because it is who we are here at CocoMats.com.