The CocoMats.com Quality
Cocomats.com re-introduced the classic coco car mat in 1996. Updated to include a natural rubber nibbed backing, a signature rubber heel pad, leather like vinyl edging, and top quality coco matting. Here at Cocomats.com we strive to manufacturer and sell only the finest car floor mats using the highest quality materials available. After several years of selling our new and updated Cocomats, a company began selling a cheaper coco mat through automotive catalogs and online retailers. While competition can bring out the best in a product, this company started using pictures and write ups that were designed to give the impression that they were either our mats or of the same quality as ours. While we support competitive pursuit of quality products, we do not support companies falsely portraying our product and stealing from our hard-working American co-workers. Henceforth, we have this page on our website in an effort to clarify the differences in quality between our mats and catalog coco mats.
CocoMats.com Floor Mats have 6 Essential Parts

1. All-Natural Soft Rubber Nibbed Backing (Bottom of Mat). All of our mats come with a soft rubber nibbed bottom. Catalog coco mats come with a light-weight hard plastic PVC backing. Both work to keep the mat in place. The problem arrises with the cheap PVC plastic. This light weight plastic weighs less that 5 lbs creating the potential to slide around while you are driving. It can also cause damage to your vehicle through its hard PVC plastic by puncturing, tearing, or leaving permanent indents in the interiors floor. Our soft rubber bottom creates give that prevents harm to your vehicles interior and weighs approximately 10-13 pounds. The heavy nibbed rubber bottom on our cocomats moulds to your floor and will not move around. For added safety, we also incorporate grommets into our mats where applicable.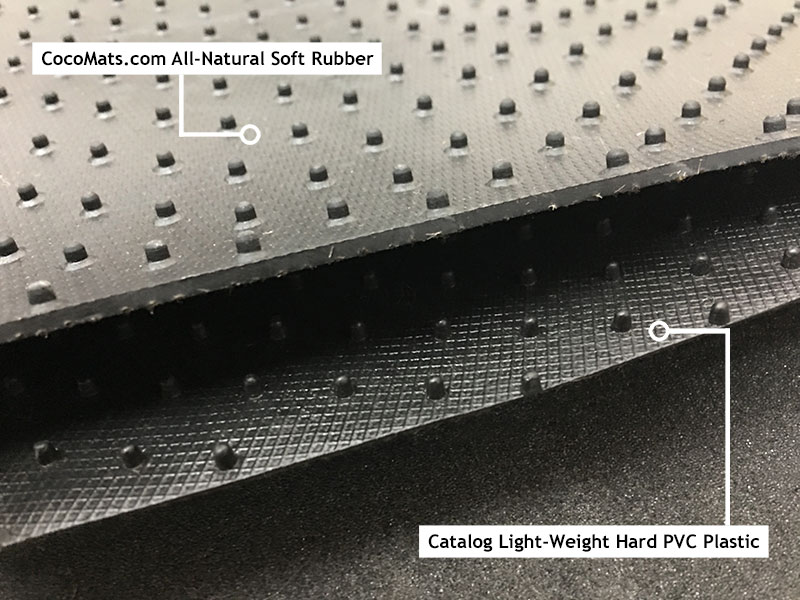 2. High-Grade Coco Fiber Matting. All coco matting is woven from coir yarn. Coir yarn is spun using the tough fibers extracted from the outer husk of Coconuts, hence the name Cocomats. Coir fibers and yarn have many grades of quality. It is this grade of yarn, along with the quality of weaving and dyes that determines the ultimate finished product. We use only top grade Anjengo yarn, which has the most consistent quality and highest cost. The yarn must be a very hard twist or the fibers will start to fray after only a short period of time. Our factory uses only the finest dyes to produce our vibrant colors in our state-of-the-art facility in Alappuzha India. In the rare occasion that our standards aren't met, this material is shipped back to India. Keep in mind that all natural fibers will fade over time; however at Cocomats.com we use the best available materials and innovative technology to help to limit this. All of our matting is woven on semi-automatic looms creating a tighter weave and producing a longer lasting quality mat.
3. Signature Rubber Heel pad. Our CocoMats.com signature rubber heel pad on the driver mat is pressed, hot glued into the matting, then double stitched in order to lay flush with the top of the mat. Using this technique ensures that your feet will not catch on the heel pad and the padding will remain flat and rigid. Catalog coco mats use an inexpensive single ply plastic or thin vinyl heel pad that is single stitched onto the driver mat. The differences in the heel pads is very important. A single ply plastic or thin vinyl heel pad will buckle up and crack after time which becomes a hazardous security issue. Our rubber heel pads are designed to never come loose from your mat. The All-Natural rubber will help to keep your feet in place while protecting the coco fibers below.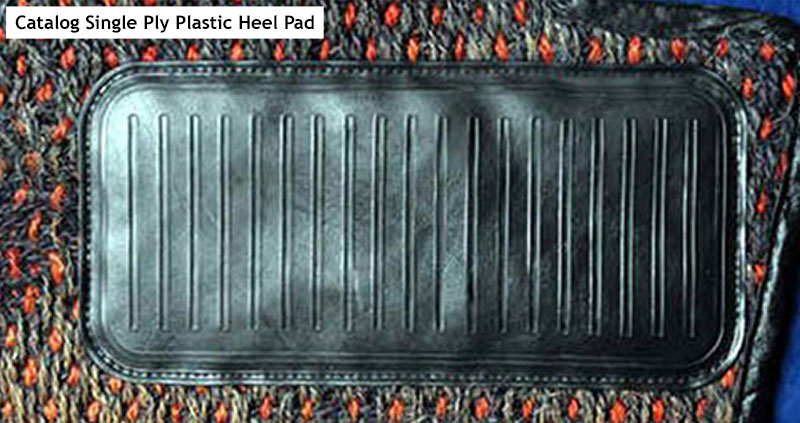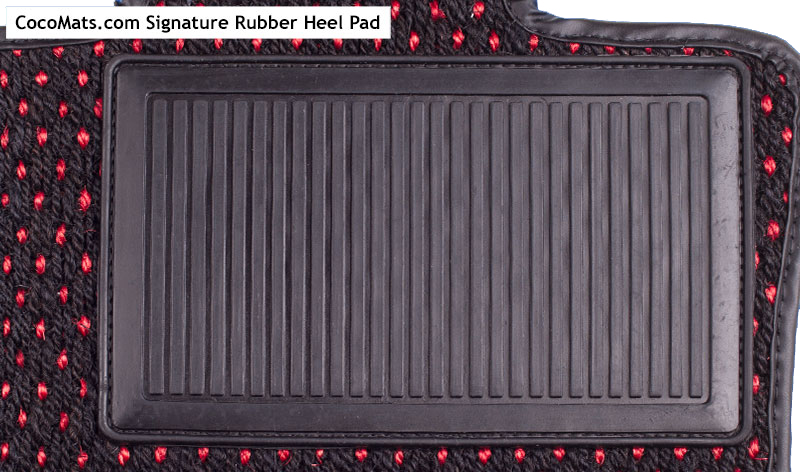 4. Tough Vinyl Edging. We use very tough and high quality leather-like vinyl edging in complementary colors to enhance and protect the sides of our cocomats. The floor mat of a car gets a lot of abuse, so we spent a great deal of time and effort sourcing a vinyl that looks like leather, but is tough enough to stand up to the floor of a car. Catalog coco mats use a "off the shelf" edging that will tear and crack in a short period of time. We sew our vinyl edge down with a very tough heavy duty Nylon thread, which will never break. Catalog coco mats use a thin thread that becomes quickly susceptible to coming apart.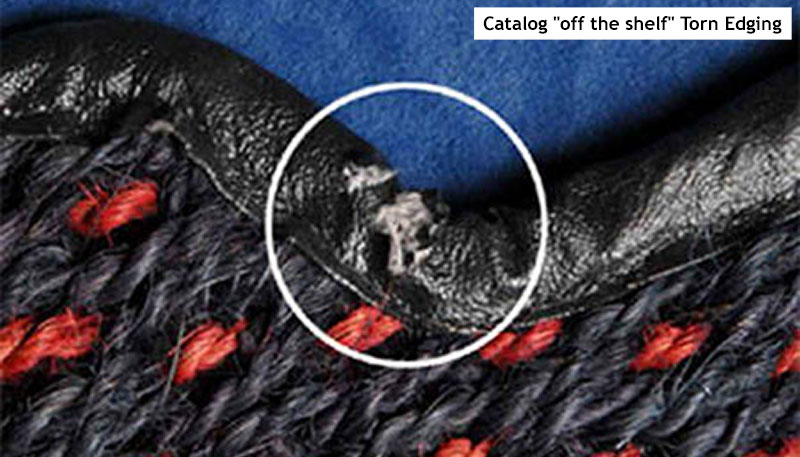 6.Manufacturing and Quality Control. Every mat is Hand-Made in USA by American workers. We are proud of every mat that leaves our factory. Our quality control is very high and a set of our mats will not ship unless it meets our tough standards. Mats and heel pads are double stitched around the edge so that fibers don't come loose, heel pads are straight, vinyl edging is correct, and all matting material is aligned. Every mat goes through a quality check at each stage of our production steps, as well as before shipping out, ensuring you the best product available.
"Quality means doing it right when no one is looking"
-Henry Ford
In Closing. Every day at Cocomats we send out swatch samples of our material to customers who would like to compare colors and see for themselves the quality of our car floor mats. We have found that the product will speak for itself. We hope that if you have any questions or doubts about our mats, or the catalog coco mats, that you order samples of the actual materials from each of us prior to buying.
The CocoMats Team